KAPASITAS OTORITAS JASA KEUANGAN (OJK) DALAM PERLINDUNGAN PRODUK INVESTASI TABUNGAN EMAS DI PT. PEGADAIAN SYARIAH DAN KONVENSIONAL
THE CAPACITY OF THE FINANCIAL SERVICES AUTHORITY (OJK) IN PROTECTION OF GOLD SAVING INVESTMENT PRODUCTS IN PT. SHARIA POWDERSHIP AND ACCORDING TO CONVENTIONAL LAW NO. 21 YEAR 2011
Keywords:
Gold saving investment, PT. Pegadaian, OJK Regulation Law Number 21 of 2011
Abstract
The government appoints the Financial Services Authority to supervise, foster and provide regulations regarding the Capital Market with the regulations in Law Number 21 of 2011 concerning the Financial Services Authority. In this study, the capital market in question is in the form of a limited liability company, namely PT. Pegadaian (Persero). The form of this company's financial services is a pawnshop. The other development in this company is in the form of gold investment. The company's goal is to provide convenience, especially for the lower middle class, to invest in gold by opening a gold savings account. The existence of this program has made other companies file lawsuits related to gold savings investment products. With the protection from OJK providing as a witness and providing an operational license number S-427/NB.11/2016 dated 17/02/2016 regarding the Gold Savings Pegadaian investment product, this program was inaugurated by the government and OJK given by PT. Pawnshop as the manager. The update related to the gold savings investment program was resubmitted and approved by the OJK with a new licensing letter number S-476/NB.111/2019 on 09/11/2019 regarding the approval of PT. Gold Savings Investment Products. Pegadain (Persero). So, PT. Pegadaian obtained a complete patent on the operational license for the gold savings investment product, although there are other companies with the same name as PT. pawnshop. Moreover, the implementation system in PT. Pawnshops differ by other companies that are suing.
Keywords: OJK Regulation Law Number 21 of 2011, PT. Pegadaian, Gold Saving Investment Product
References
Aplikasi Pegadaian Digital Service. 2018. https: / / play.google.com /store /apps /details?id = com.pegadaiandigital&hl=in&gl=US, diakses 30 Mei 2022.
Buku Panduan PT. Pegadaian. (2014). Pedoman Pengendalian Gratifikasi. Jakarta Pusat. PT. Pegadaian (Persero).
Badan Kebijakan Fiskal-Kementerian Keuangan RI. "Meneropong Arah Sektor Keuangan." Warta Fiskal, 2021.
Fay, Daniel Lenox. Panduan Praktis Merencanakan Keuangan Untuk Investasi Di Pasar Modal, Pasar Uang Dan Valas. Angewandte Chemie International Edition, 6(11), 951–952., 1967.
Gugatan hak paten. 2022. https://www.cnbcindonesia.com/market/20220519143618-17-340207/ada-gugatan-hak-cipta-pegadaian-beberkan-awal-bisnis-emas/4, diakses tanggal 08 juni 2022.
Habibah, Nunung Uswatun Ciamis Indonesia. "Perkembangan Gadai Emas Ke Investasi Emas Pada." Jurnal Ekonomi Dan Keuangan Syariah 1, no. 1 (2017).
Harahap, Ardhansyah Putra, and Dwi Saraswati. Bank Dan Lembaga Keuangan Lainnya, Jakarta. Penerbit PT Raga Grafindo Persada. Halaman: 96., 2020.
Hariyanto, Rifatul Jannah. "Analisis Investasi Pada Tabungan Emas Di Pegadaian Syariah Cabang Jember." Skripsi, 2020.
Kholid, Muhamad. "PENYELESAIAN SENGKETA PERBANKAN PASCA KELUARNYA UNDANG-UNDANG NOMOR 21 TAHUN 2011 TENTANG OTORITAS JASA KEUANGAN." ADLIYA: Jurnal Hukum Dan Kemanusiaan 10, no. 1 (2019). https://doi.org/10.15575/adliya.v10i1.5148.
Mala, Iva Khoiril. "E-Government : Efektivitas Pelayanan Aplikasi Pegadaian Digital Service Syariah Di Pegadaian Cabang Malang." Jurnal At-Tamwil 3, no. 2 (2021).
Nawaz, Nishad, and Sudindra V. R. "A Study on Various Forms of Gold Investment." SSRN Electronic Journal, 2020. https://doi.org/10.2139/ssrn.3525301.
OJK. "Buku 7: Lembaga Jasa Keuangan Lainnya: Seri Literasi Keuangan Perguruan Tinggi." Seri Literasi Keuangan Perguruan Tinggi, Jakarta. Tirta Segara:59., 2019.
Otoritas Jasa Keuangan. Buku Saku Otoritas Jasa Keuangan Edisi Kedua. Ojk, 2015.
Peraturan Otoritas Jasa Keuangan Nomor 31/POJK.05/2016 Tentang Usaha Pergadaian
Pegadaiansyariah.co.id. Pegadaian & Tokopedia Luncurkan Fitur Jual Beli Emas Online. Pegadaian.Co.Id, 2019.
PERUM Pegadaian.2022. https://pegadaian.co.id/, diakses tanggal 10 juni 2022.
Sari, Annisa Arifka. "PERAN OTORITAS JASA KEUANGAN DALAM MENGAWASI JASA KEUANGAN DI INDONESIA." SUPREMASI Jurnal Hukum 1, no. 1 (2018). https://doi.org/10.36441/supremasi.v1i1.154.
Sri Rahyani, Wiwin. "Independensi Otoritas Jasa Keuangan Dalam Perspektif Undang-Undang Nomor 21 Tahun 2011 Tentang Otoritas Jasa Keuangan." Jurnal Legislasi Indonesia 9, no. 3 (2012).
Sutedi, Adrian. Aspek Hukum Otoritas Jasa Keuangan. Raih Asa Sukses (Penebar Swadaya Grup). Vol. 4, 2014.
Suwardi. "PENGAWASAN PASAR MODAL SETELAH BERLAKUNYA UNDANGUNDANG NOMOR 21 TAHUN 2011 TENTANG OTORITAS JASA KEUANGAN." Legalita 1, no. 1 (2019). https://doi.org/10.47637/legalita.v1i1.32.
Toko Emas Goldgram. 2008. https://www.goldgram.co.id/portal2/home.do, diakses tanggal 28 Mei 2022.
Undang-Undang Nomor 8 Tahun 1995 Tentang Pasar Modal
Undang-Undang Nomor 21 Tahun 2011 Tentang Otoritas Jasa Keuangan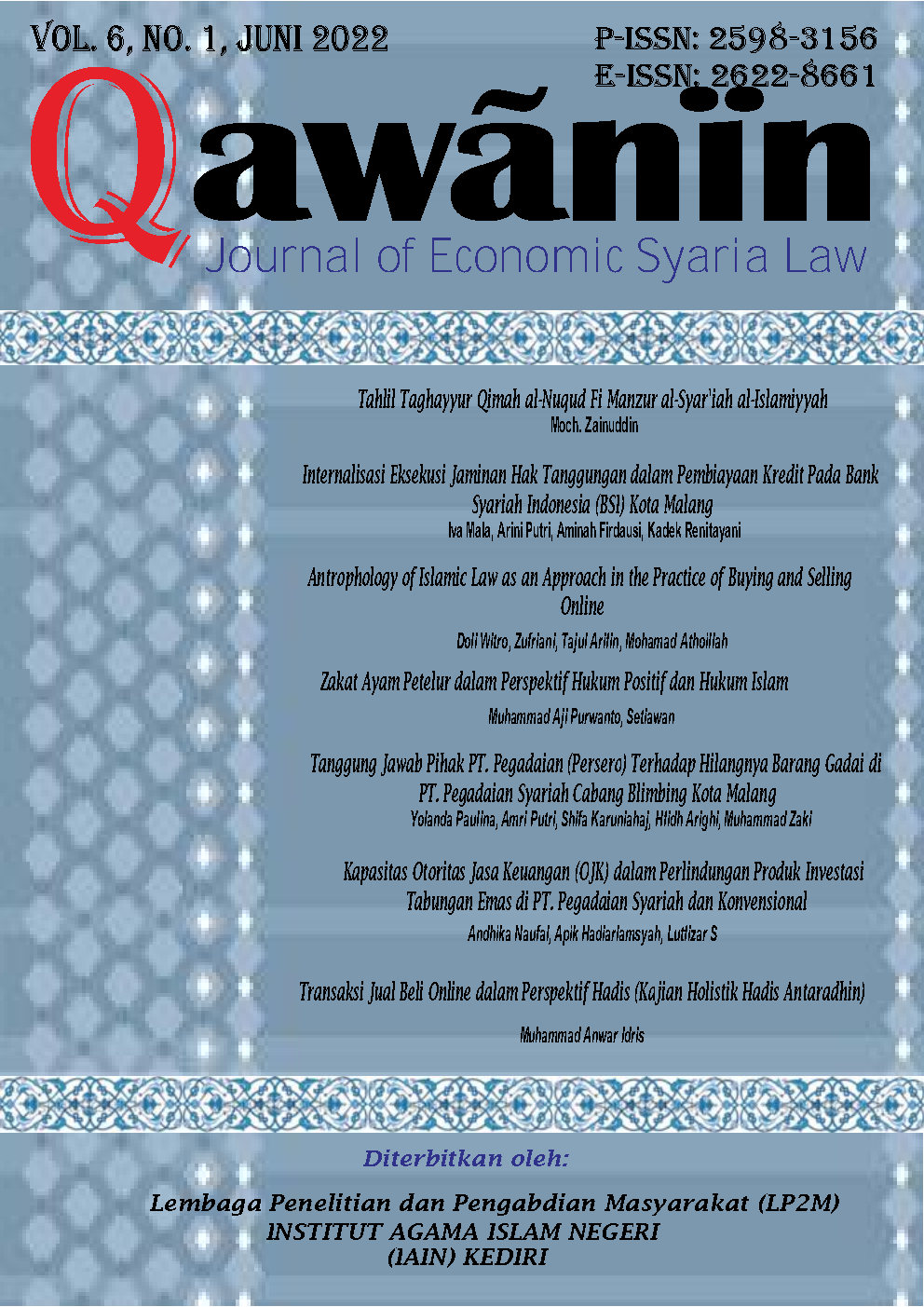 Downloads
How to Cite
naufal, andhika, Hadiarlamsyah, A. ., & S, L. . (2022). KAPASITAS OTORITAS JASA KEUANGAN (OJK) DALAM PERLINDUNGAN PRODUK INVESTASI TABUNGAN EMAS DI PT. PEGADAIAN SYARIAH DAN KONVENSIONAL: THE CAPACITY OF THE FINANCIAL SERVICES AUTHORITY (OJK) IN PROTECTION OF GOLD SAVING INVESTMENT PRODUCTS IN PT. SHARIA POWDERSHIP AND ACCORDING TO CONVENTIONAL LAW NO. 21 YEAR 2011. Qawãnïn Journal of Economic Syaria Law, 6(1), 86–106. https://doi.org/10.30762/qawanin.v6i1.140
License
Copyright (c) 2022 Qawãnïn Journal of Economic Syaria Law
This work is licensed under a Creative Commons Attribution 4.0 International License.