Anthropology of Islamic Law as an Approach in the Practice of Buying and Selling Online
Keywords:
Anthropology, Islamic Law, Buying and Selling, Online
Abstract
Information technology has changed the ways of transacting and opened up new opportunities in conducting business transactions. An online sale and purchase agreement via the internet is considered valid if it meets subjective and objective conditions. Trading business activities via the internet are known as electronic commerce (e-commerce). It has become a necessity that society always experiences changes which are often followed by changes in mindset and values. On the other hand, the legal anthropology approach in research on Islamic law, both the study of normative laws (in the Qur'an) and empirical ones (in the practice of Muslims), has not been fully used. This article describes the anthropological approach of Islamic law in viewing the phenomenon of online buying and selling practices in Indonesia. This article aims to highlight the practice of buying and selling online using an anthropological approach to Islamic law. This article is qualitative research with library research. This article uses a Normative-Anthropological approach. The data in this study were obtained from library materials such as books, journals, and others related to the problems studied, namely the anthropology of Islamic law and online buying and selling. Data analysis techniques used are data condensation, data presentation, and drawing conclusions. The analysis results show that economic activity, including buying and selling online, relies heavily on language as a symbol of interaction. In other words, humans and the economy always prioritize symbolic interactionism in negotiating the desires and expectations of sellers and buyers, that is where anthropology and economics meet.
References
Abdurohman, Dede, Haris Maiza Putra, and Iwan Nurdin. "Tinjauan Fiqih Muamalah Terhadap Jual Beli Online." Jurnal Ekonomi Dan Bisnis Islam 1, no. 2 (2020): 35–48. http://journal.bungabangsacirebon.ac.id/index.php/ecopreneur/article/view/131.
Adi, Fajarwati Kusuma. "Perspektif Jual Beli Online Dalam Perspektif Hukum Islam Dan KUHPerdata." Lisyabab: Jurnal Studi Islam Dan Sosia 2, no. 1 (2021): 91–102. https://lisyabab-staimas.e-journal.id/lisyabab/article/view/66.
Al-Arif, M. Nur Riyanto. "Penjualan On-Line Berbasis Media Sosial Dalam Perspektif Ekonomi Islam." Ijtihad: Jurnal Wacana Hukum Islam Dan Kemanusiaan 13, no. 1 (2013): 33–48. https://doi.org/10.18326/ijtihad.v13i1.33-48.
Ardhinata, Ahliwan, and Sunan Fanani. "Keridhaan (Antaradhin) Dalam Jual Beli Online (Studi Kasus UD. Kuntajaya Kabupaten Gresik)." Jurnal Ekonomi Syariah Teori Dan Terapan 2, no. 1 (December 1, 2015): 47–60. https://doi.org/10.20473/vol2iss20151pp47-60.
Arifin, Tajul. Antropologi Hukum Islam. Bandung: Pusat Penelitian dan Penerbitan UIN Sunan Guung Djati Bandung, 2016.
Arsyadi, Muhammad. "Tinjauan Antropologi Hukum Islam Terhadap Praktik Ijab-Kabul Dalam Transaksi Jual Beli Di Pasar Terapung Banjarmasin." DIVERSI: Jurnal Hukum 4, no. 1 (July 9, 2018): 1–27. https://doi.org/10.32503/diversi.v4i1.170.
Astuti, Daharmi. "Persepsi Masyarakat Terhadap Akad Jual Beli Online." Syarikat: Jurnal Rumpun Ekonomi Syariah 1, no. 1 (2018): 13–26. https://doi.org/10.25299/syarikat.2018.vol1(1).2625.
Dahlan, Moh. "Pendekatan Antropologis Dalam Paradigma Usul Fikih." Madania: Jurnal Kajian Keislaman 19, no. 1 (2015): 47–69. https://doi.org/10.29300/madania.v19i1.30.
Darmawansyah, Trisna Taufik, and Miko Polindi. "Akad As-Salam Dalam Sistem Jual Beli Online." Jurnal Aghinya Stiesnu Bengkulu 3, no. 1 (2020): 20–39. https://ejournal.stiesnu-bengkulu.ac.id/index.php/aghniya/article/view/33.
Darmayanti, Desak Made Prilia, and Ketut Suardita. "Kajian Terhadap Tindak Pidana Penipuan Melalui Jual-Beli Online." Kertha Wicara: Journal Ilmu Hukum 5, no. 1 (2016): 1–5. https://ojs.unud.ac.id/index.php/kerthawicara/article/view/18985.
Estijayandono, Kristianto Dwi. "Etika Bisnis Jual Beli Online Dalam Perspektif Islam." Jurnal Hukum Ekonomi Syariah 3, no. 1 (June 20, 2019): 53–68. https://doi.org/10.26618/j-hes.v3i1.2125.
Faisol, Muhammad. "Hukum Islam Dan Perubahan Sosial." JURIS (Jurnal Ilmiah Syariah) 18, no. 1 (June 30, 2019): 33–44. https://doi.org/10.31958/juris.v18i1.1397.
Fitria, Tira Nur. "Bisnis Jual Beli Online (Online Shop) Dalam Hukum Islam Dan Hukum Negara." Jurnal Ilmiah Ekonomi Islam 3, no. 1 (2017): 52–62. https://doi.org/10.29040/jiei.v3i01.99.
Hormaini, Ahmad, M. Zamroni, and Hariadi Sasongko. "Perlindungan Hukum Terhadap Konsumen Dalam Transaksi Jual Beli Secara Online." Jurnal Reformasi Hukum : Cogito Ergo Sum 3, no. 1 (2018): 21–28. https://doi.org/10.31227/osf.io/r8vxq.
Ihsan, Muhammad. "Transaksi Jual Beli Online Perspektif Hukum Islam." Jurnal Lex Justitia 3, no. 1 (2021): 60–78. https://doi.org/10.22303/lex%20justitia.3.1.
Johari, Elman. "Jual Beli Online Dalam Perspektif Hukum Islam." Jurnal Hukum Sehasen 2, no. 1 (2018): 1–13. https://jurnal.unived.ac.id/index.php/jhs/article/view/762.
Masse, Rahman Ambo. Fiqih Ekonomi Dan Keuangan Syariah. Yogyakarta: TrustMedia Publishing, 2016.
Miles, Matthew B., A. Michael Huberman, and Johnny Saldaña. Qualitative Data Analysis: A Methods Sourcebook. California: SAGE Publications, Inc., 2014.
Nurcholifah, Ita. "Jual Beli Online Oleh Mahasiswa IAIN Pontianak." Khatulistiwa: Journal of Islamic Studies 7, no. 2 (2017): 1–27. https://doi.org/10.24260/khatulistiwa.v7i2.953.
Nurmansyah, Gunsu, Nunung Rodliyah, and Recca Ayu Hapsari. Pengantar Antropologi: Sebuah Ikhtisar Mengenal Antropologi. Lampung: CV. Anugrah Utama Raharja, 2019.
Putra, Muhammad Deni. "Jual Beli Online Berbasis Media Sosial Dalam Prespektif Ekonomi Islam." Iltizam Journal Of Shariah Economic Research 3, no. 2 (2019): 57–80. https://doi.org/10.30631/iltizam.v3i1.288.
Putri, Adistie Arista. "Pelaksanaan Transaksi Jual Beli Online Di Situs Heavenlight.Co." Prosiding Seminar Nasional Mahasiswa, no. April (2019): 52–69. http://jurnal.unissula.ac.id/index.php/kimuh/article/view/7930.
Rudyansjah, Tony, Muhammad Damm, Ade Solihat, Geger Riyanto, Imam Ardhianto, and Naeni Amanulloh. Antropologi Agama: Wacana-Wacana Mutakhir Dalam Religi Dan Budaya. Jakarta: UI Press, 2012.
Sahlan, Sartono. "The Other Laws Di Era Otonomi Daerah (Studi Antropologi Hukum)." Pandecta : Jurnal Penelitian Ilmu Hukum (Research Law Journal) 5, no. 2 (2013): 149–59. https://doi.org/10.15294/pandecta.v5i2.2301.
Salim, Munir. "Jual Beli Secara Online Menurut Pandangan Hukum Islam." Al Daulah : Jurnal Hukum Pidana Dan Ketatanegaraan 6, no. 2 (2017): 371–86. https://doi.org/10.24252/ad.v6i2.4890.
Siregar;, Richardy Affan Sojungan, Hersy Ayu Qadrya, Bella Marisela Caroline, Atthiya Prima Sari, Luqman Isyraqi Lazuardi, and Ramadana Arbi. "Analisis Transaksi Jual-Beli Online (Peer to Peer) Pada e-Commerce Berdasarkan Hukum Syariah." Jurnal of Islamic Economics Lariba 3, no. 1 (2017): 31–38. https://journal.uii.ac.id/JIELariba/article/view/9649.
Sodiqin, Ali. "Antropologi Hukum Sebagai Pendekatan Dalam Penelitian Hukum Islam." Al-Manahij: Jurnal Kajian Hukum Islam 7, no. 1 (January 1, 2013): 115–26. https://doi.org/10.24090/mnh.v7i1.581.
Susminingsih, Susminingsih. "Ekonomi Islam Dalam Perspektif Antropologi." Jurnal Hukum Islam 3, no. 4 (2015): 281–85. https://www.neliti.com/publications/37053/ekonomi-islam-dalam-perspektif-antropologi-sketsa-awal.
Syauki, Uki. "Analisis Kemaslahatan Dan Kontekstual Praktek Jual Beli Berbasis Online." Dinar: Jurnal Prodi Ekonomi Syari'ah 3, no. 1 (2020): 122–44. https://e-jurnal.stail.ac.id/index.php/dinar/article/view/134.
Taib, Abdullah. Asas-Asas Antropologi. Kuala Lumpur: Dewan Bahasa dan Pustaka Kementerian Pelajaran Malaysia, 1985.
Tanjung, Sapriandi. "Tinjauan Yuridis Transaksi Jual Beli Online Menurut Undang-Undang Nomor 11 Tahun 2008 Tentang Informasi Dan Transaksi Elektronik Di Kota Bengkulu Juridical." Panji Keadilan 1, no. 1 (2018): 51–66. https://doi.org/10.36085/jpk.v1i1.245.
Tektona, Rahmadi Indra, and Risqullah Cahyanan Putra. "Implikasi Hukum Pandemi Covid-19 Terhadap Transaksi Akad Bai'As-Salam (Pre Order) Dalam Transaksi Dropship." Jurnal Supremasi 11, no. 1 (2021): 79–93. https://doi.org/10.35457/supremasi.v11i1.1093.
Triantika, Nafa Amelsi, Elwidarifa Marwenny, and Muhammad Hasbi. "Tinjauan Hukum Tentang Pelaksanaan Perjanjian Jual Beli Online Melalui E-Commerce Menurut Pasal 1320 Kuhperdata." Ensiklopedia Social Review 2, no. 2 (2020): 119–31. https://doi.org/10.33559/esr.v2i2.488.
Ulum, Misbahul. "Prinsip-Prinsip Jual Beli Online Dalam Islam Dan Penerapannya Pada e-Commerce Islam Di Indonesia." Jurnal Dinamika Ekonomi & Bisnis 17, no. 1 (2020): 49–64. https://doi.org/10.34001/jdeb.v17i1.1115.
Wakhidah, Wakhidah, and Chamim Thohari. "Jual Beli on Line (E-Commerce) Ditinjau Dari Perspektif Hukum Islam." Jurnal Justisia Ekonomika: Magister Hukum Ekonomi Syariah 2, no. 2 (July 5, 2019): 1–12. https://doi.org/10.30651/justeko.v2i2.2478.
Wulandari, Friska Muthi. "Jual Beli Online Yang Aman Dan Syar'i (Studi Terhadap Pandangan Pelaku Bisnis Online Di Kalangan Mahasiswa Dan Alumni Fakultas Syari'ah Dan Hukum UIN Sunan Kalijaga)." Az Zarqa' 7, no. 2 (2015): 201–20. http://ejournal.uin-suka.ac.id/syariah/azzarqa/article/view/1501.
Yunus, Muhammad, Fahmi Fatwa Rosyadi Satria Hamdani, and Gusti Khairina Shofia. "Tinjauan Fikih Muamalah Terhadap Akad Jual Beli Dalam Transaksi Online Pada Aplikasi Go-Food." Amwaluna: Jurnal Ekonomi Dan Keuangan Syariah 2, no. 1 (2018): 135–46. https://doi.org/10.29313/amwaluna.v2i1.3363.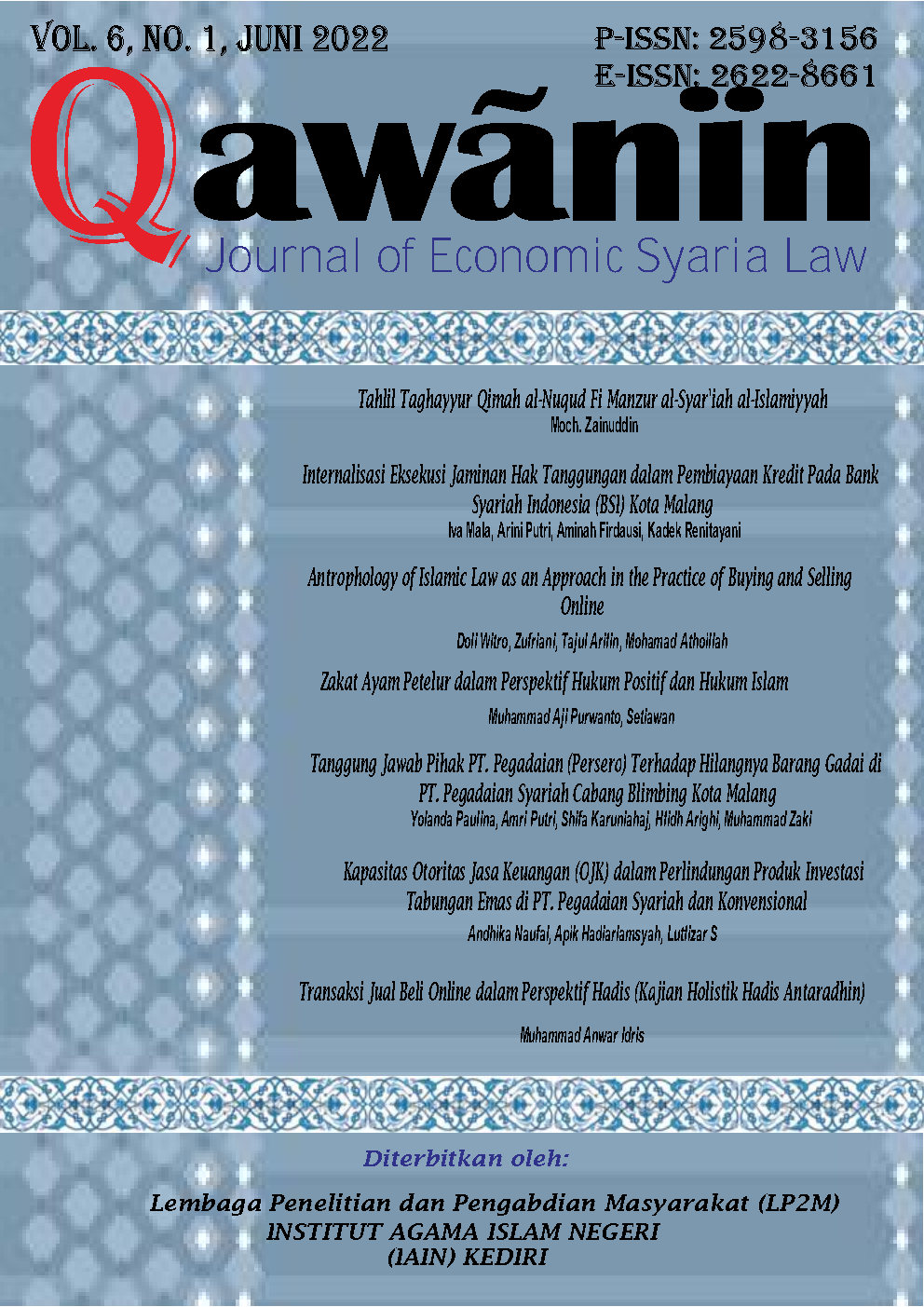 Downloads
How to Cite
Witro, D., Zufriani, Arifin, T. ., & Athoillah, M. (2022). Anthropology of Islamic Law as an Approach in the Practice of Buying and Selling Online. Qawãnïn Journal of Economic Syaria Law, 6(1), 36–52. https://doi.org/10.30762/qawanin.v6i1.18
License
Copyright (c) 2022 Qawãnïn Journal of Economic Syaria Law
This work is licensed under a Creative Commons Attribution 4.0 International License.