INTERNALISASI EKSEKUSI JAMINAN HAK TANGGUNGAN DALAM PEMBIAYAAN KREDIT PADA BANK SYARIAH INDONESIA (BSI) KOTA MALANG
The Internalization of Guarantee Rights Execution in Credit Financing at Indonesian Sharia Bank (BSI) Malang City
Keywords:
credit financing, internalizing of mortgage, BSI
Abstract
The Financial Institution under the government and supervised by the OJK regarding credit financing in accordance with sharia provisions is the Indonesian Sharia Bank. This study uses a normative juridical approach with a descriptive approach, primary data sources and secondary data from documentation and legislation. The technique in this study uses observation and interviews. The results of this study used the internalization of the Law of the Republic of Indonesia Number 21 of 2008 concerning Islamic Banking and the Law of the Republic of Indonesia Article 6 concerning Mortgage Rights. The obstacles faced in this study are the delinquency of various characteristics of debtors who ignore their installments. Efforts made to overcome these problems are through mediation, fostering to sell the object of mortgage guarantee together and if this method does not produce results, it will be carried out with a court decision. It is hoped that the increase in the survey of the object of the mortgage guarantee can be evaluated again before approving the loan application from the debtor.
References
Eksekusi Sertifikat Dan Hak Tanggungan. Jurnal Hukum Penelitian De Jure. Vol.17 (2); https://ejournal.balitbangham.go.id/index.php/dejure/article/view/266/pdf, diakses pada tanggal 18 maret 2022
J, Satrio, 2017, Hukum Jaminan, Hak Jaminan Kebendaan, Hak Tanggungan, Citra Aditya, Bandung.
Mulyanti, W. (2015). Pengaruh Konsolidasi Lahan Perkotaan terhadap Harga Tanah di Ringintelu, Kelurahan Kalipancur - Kota Semarang. Jurnal Pembangunan Wilayah dan Kota, 11(1), pp. 63-75
Musjtari, D. N. (2016). Rekonstruksi Lembaga Penyelesaian Sengketa Akad Pembiayaan Dengan Jaminan Hak Tanggungan Pasca Putusan Mahkamah Konstitusi Nomor 93/PUU_X/2012. Jurnal Media Hukum, june, 23(1), pp. 62-75.
Undang-Undang Republik Indonesia Nomor 21 Tahun 2008 tentang Perbankan Syariah.
Undang Undang No.3 Tahun 2006 tentang Perubahan Pasca Hak Tanggungan di Bank Syariah https://peraturan.bpk.go.id/Home/Details/40154/uu-no-3-tahun-2006, diakes pada tanggal 20 Maret 2022
Undang-Undang No.5 Tahun 1960 Tentang Peraturan Dasar Pokok-Pokok Agraria
Undang-Undang Pasal 6 Tentang Hak Tanggungan, https://www.djkn.kemenkeu.go.id/kanwil-sumut/baca-artikel/12694/LELANG-PASAL-6-UUHT-DAN-LELANG-BERDASARKAN-TITLE-EKSEKUTORIAL.html#:~:text=%2D%20Bahwa%20sesuai%20pasal%206%20UUHT,piutangnya%20dari%20hasil%20penjualan%20tersebut%E2%80%9D, diakses pada tanggal 20 Maret 2022.
Peraturan SOP Bank Syariah Indonesia tentang pembiayaan kredit, (https://www.bankbsi.co.id/), diakses pada tanggal 18 Maret 2022.
Puspasari, N. I, dkk. 2020. PENYELESAIAN SENGKETA PEMBIAYAAN DENGAN OBJEK JAMINAN HAK TANGGUNGAN PADA BANK SYARIAH DI KOTA MALANG. Jurnal Ilmu Hukum: De LEGA LATA. http://jurnal.umsu.ac.id/index.php/delegalata/article/view/3371, diakses pada tanggal 19 Maret 2022.
Sunarto. (2015). Peran Aktif Hakim dalam Perkara Perdata. 2 ed. Jakarta: Kencana.
Terok, G. (2013). Fungsi Jaminan dalam Pemberian Kredit. Lex Privatum, 1(5), pp. 5-16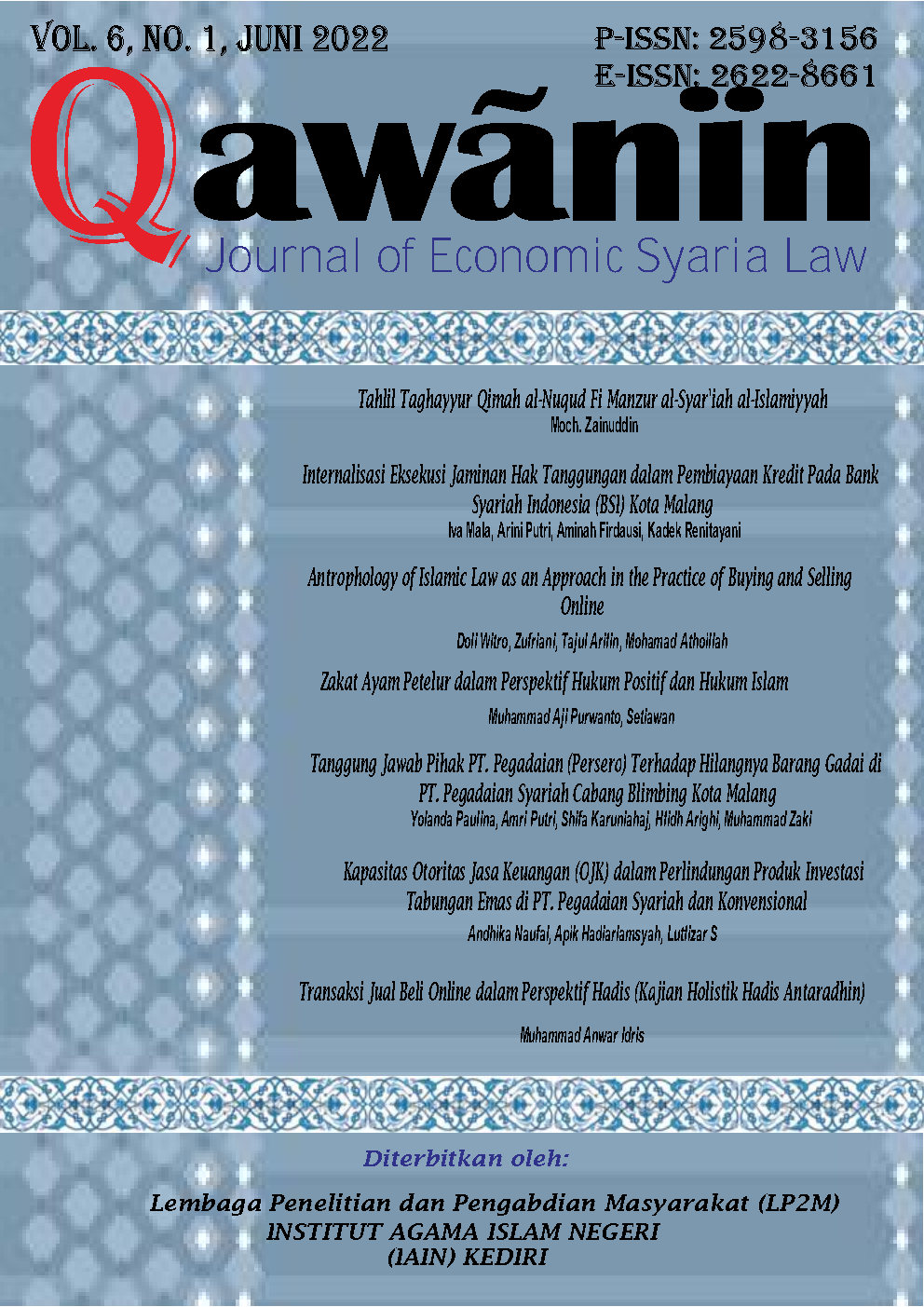 Downloads
How to Cite
Mala, I., Putri, A., Firdausi, A. ., & Renitayani, K. . (2022). INTERNALISASI EKSEKUSI JAMINAN HAK TANGGUNGAN DALAM PEMBIAYAAN KREDIT PADA BANK SYARIAH INDONESIA (BSI) KOTA MALANG: The Internalization of Guarantee Rights Execution in Credit Financing at Indonesian Sharia Bank (BSI) Malang City. Qawãnïn Journal of Economic Syaria Law, 6(1), 21–35. https://doi.org/10.30762/qawanin.v6i1.2
License
Copyright (c) 2022 Qawãnïn Journal of Economic Syaria Law
This work is licensed under a Creative Commons Attribution 4.0 International License.